Recalibrate Your Life…
is a unique 90 day, one on one private transformational program.
You know when…
You've had a horrible experience and you just want the pain, shame, guilt, heartache and resulting behaviours to go away. But try as you might, you keep having similar experiences over and over again. You wonder:
'Why does this keep happening?'
Then one day you wake up and you've had enough! Enough of the fear, enough of the pain, enough of the guilt, enough of the shame…
You're no longer willing to live like this, and deep down inside you know there has to be more.
You can feel your heart yearning to be free.
You want to know you're living in integrity with your heart and soul.
You want clarity around what needs to be revisited and /or released at this time.
Imagine what's possible for you, when you… 
Feel connected to your soul.
Uncover the truth of what you're here to be, and do on planet earth.
Wake up in the morning feeling inspired and alive.
Love yourself enough and have the courage to say no to fear and kiss the pain goodbye.
But how the hell do you do that?
Well I asked myself the very same question. As a World Bridger and  coach for nearly a decade, I wanted more for myself and my clients…so, I went on a quest.  I started searching for anything that would complement what I was already doing, that would take things to the next level for myself and my clients. As I started to integrate my discoveries into sessions with clients, we started to notice that breakthroughs and shifts were happening at lightning speed.
Having experienced significant trauma myself when younger, and then later as an adult, I personally know how the resulting behaviours and beliefs can play out in your life. Stopping you from being and doing all that is intrinsically your birth-right.
But… I discovered the truth behind the saying:
"your deepest wounds hold the key to your greatest gifts".
The lingering residue of these experiences, sparked me to go on a journey of finding tools and resources to initially help heal myself. In that process I found myself naturally offering my gifts to others.
It is wonderful to experience what some would consider miraculous change.  And I was amazed to discover what was possible in life, when you are finally ready to let that shit go!
I help men and women just like you … I utilise skills in clinical hypnotherapy, emotional freedom technique and coaching techniques.
I create a safe and sacred space for you to open your heart and let go of what no longer serves your soul.  You will be totally free to express your truth. And through the process we will activate what has been dormant within you, and release what no longer serves. You will experience this deep transformation for yourself.
Here are some of the experiences that my clients have had:
"I've shifted mountains within me. There are no words I can use to explain how I'm feeling x so grateful."
"I am feeling so much weight has lifted and a new sense of freedom and love for me to be able to connect again with others."
"The experience has left me feeling more connected, lighter and self-loving and am starting to see this unfolding in my life, amazing!"
"I've been noticing changes each day ranging from a general calm to joyful light-heartedness. My overall disposition is so much lighter and gratuitous – I have so much more energy, am sleeping really well and just feel so sparkling!!"
"Oh my goodness. I just looked in the mirror and was wondering what looked so odd/different…Then I realised….the dark circles that have been under my eyes for most of my life have gone."
"Thank you Deb just for being you! You really do make this journey that much more magical and I have loved having you by my side along the way."
"I have so much gratitude for your compassion and nurturing. You and your skills are a very precious gift – Thank you."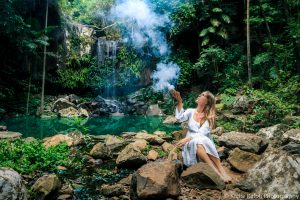 …you may experience:
Exposure of your darkest shadows to shine your brightest light
Breaking through the fear that is holding you back
Reconnection with your sacred self
An ability to build strong and healthy boundaries
The release of guilt, shame, anger and fear
The courage to step into your truth
Whilst this program is suitable for many, I specifically created this to support people carrying unresolved trauma.
Seriously, I will say it again: it is time to let that shit go!
So you may ask yourself……Is clarity coaching for me? Well:
Are you tired of settling for mediocre, and do you want to live the life you were born to?
Are you ready to fully connect to your soul and live life with integrity?
Are you ready to be truly happy and at peace?
Are you ready to rewrite your future? Don't let past traumas or life events keep you stuck.
If any of the above resonates with you, then the 90 day clarity program could be the answer you have been searching for.
I want you to imagine yourself 90 days from now…
You have let go of things that you didn't even know were holding you back. You have developed strong and healthy boundaries. You feel connected to your soul. You wake up feeling inspired and alive. And most importantly you love yourself so much, that saying no to fear and kissing pain goodbye comes naturally.
By the end of the first day you will know that you have found something special, you will have started to reveal your truth, awaken your mind and be on a clear path to freedom.
Due to the intimate and at times intense journey that we will go on together. I only accept two to three new clients a month. So if you are feeling an inner 'yes' and know that this might be the next step for you, then please contact me for a free 30 minute Zoom session to discuss further. You can either call me directly on 0433 299 079 or click on the 'contact me' link below.
For those who do not wish to do a full program but maybe want to have one or two sessions, we can accommodate that as well.  Please call on 0433 299 079 to discuss.
I look forward to connecting with you.
Deb
What now?
Take action and contact me on 0433 299 079, or click the Contact Me button and send an email. I answer all of my calls personally if not with a client or after hours, and promise to get back to you within 24 business hours.