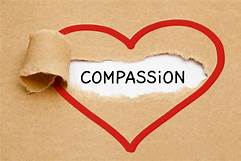 Tis the Season to Practice Compassion
I hear you ask compassion and Christmas, bear with me!
Whether you celebrate Christmas or not, this time of year is linked closely with this celebration. Shops are filled with Christmas gift ideas, and grocery stores have shelves filled with all of the traditional Christmas foods. It's everywhere. You cannot escape it.
Christmas is associated with celebrating with loved ones, lavishing gifts on people we care about, as well as indulging with food and drink.
This is a beautiful concept, but for many, this time of year brings up other feelings. These feelings may include: loneliness, sadness, separation, financial anxiety (or debt) and isolation.
Considering the current state of the world, these feelings are likely to be more widespread than ever, many families and friends are not able to spend time together, when they usually would do so.
That's why this year, I'm hoping everyone can make compassion their holiday theme, as well as the first gift they give.
Take a moment to be empathetic to how others are feeling, and where possible, make a difference to those who may be struggling.
This is the true spirit of giving.
How can I make a difference?
Reach out to your loved ones, friends, family and neighbours. Ask what their plans are, and if they don't seem to have any and you can invite them to be a part of your celebrations, then do so.
Be caring. If someone you know seems withdrawn or down, be there to hear them out. Offer to listen, help, or be there to support them. Remember often those who need support will say, I'm fine, everything is ok. So rather than ask, turn up, be present.
Give your time, money, food or gifts to those around you who may be doing it tough. Surprise a struggling family with a hamper. Drop some nicely wrapped toys or vouchers to a refuge. Find local events in your area that support those in need and call and ask how you can contribute. Ask your single friend with no local family to spend Christmas Day with your family. Remember words v actions.
Bake extra goods and share them with neighbours or others nearby who may not be doing as well as you are.
Surprise a relative or friend who is unable to travel to be with loved ones with a mail delivery from the group, or a video call from everyone.
Buy gift vouchers from local small businesses, artists and creatives and give them to people you know will love their service or goods. Support local not big conglomerates. Small business has had the biggest impact over the last 2 years.
I know this was said above, please be really aware of any elderly people living nearby who may be isolated from family. Drop in for a cuppa, invite them over. Go and see them, even if briefly on Christmas Day. It can change a person's entire outlook.
What if it's me who is struggling?
Read the list above and realise there are lots of ways others can help! Sometimes it starts with asking for help, or letting others know that we are not feeling festive, are short on funds or feeling alone.
Reach out. Whether it's to someone you love, a counsellor, a supportive online community, a helpline or a local charitable organisation – there are many others around who can make things a bit easier, even if you are feeling alone.
Acknowledge underlying feelings and make a courageous choice to work with them so that this time next year is a happy time for you, even if things haven't changed externally
Shake off the expectations that you have to do a certain thing on a certain day. Maybe you can have a day watching your favourite movies while everyone else is creating a hangover and enjoying the gifts before the credit card bill arrives. Write people you love letters expressing how much they mean to you instead of doing gifts. Whatever you need to do to make this time of year work for you, do that.
Attend an Orphan's Christmas party or a community event to get out of the house.
Volunteer. If you have spare time, reach out to local organisations and see if you can help. It will most likely take your mind off what you are experiencing.
Practise self-compassion. Give, give, give and keep giving empathy and compassion to yourself. Ask yourself, if you were your best friend, how would you like to see them treated? Do that! Give yourself the gift of kindness and self-compassion. Both are free and useful.
Here is to a compassionate, healthy and joyful festive season, for all!
Assistance
PS… If you or anyone you know really needs some assistance, please access the services below for some extra support:
Lifeline: 13 11 14 (24 hour national phone support line)
BeyondBlue: https://online.beyondblue.org.au/#/chat/start (Online support for depression and anxiety)
Suicide Support Immediate Callback: 1300 059 467 (National phone support line)
The Sunlight Centre Brisbane: 1300 259 724 (Brisbane based Crisis counselling for everyone – up to 15 face to face sessions free of any charge)
Community Friends West End: 0418 754 900 (Brisbane based emergency food support, also running a wonderful annual community Christmas)